Wheel width and wheel back spacing is very important for proper wheel fitment.
Use this chart to determine wheel offset using back spacing measurement
Step 1 -
Measure wheel width
Step 2 -
Determine the back space measurement by laying a straight edge across the bead seat of the inside edge of the rim, and measuring from the hub flange to the straight edge.
Step 3 -
Using the chart below, find where the row for the wheel width intersects with the column for the back spacing measurement. This is the wheel offset.
* Please note, for Optimum tire fitment with our leveling kits, we recommend a +12 wheel offset for custom wheels.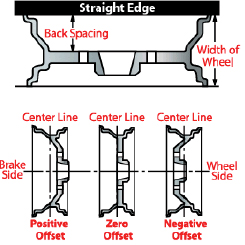 Back Spacing in inches
| | | | | | | | | | | | | | | | | | | | | |
| --- | --- | --- | --- | --- | --- | --- | --- | --- | --- | --- | --- | --- | --- | --- | --- | --- | --- | --- | --- | --- |
| | 3.25 | 3.5 | 3.75 | 4 | 4.25 | 4.5 | 4.75 | 5 | 5.25 | 5.5 | 5.75 | 6 | 6.25 | 6.5 | 6.75 | 7 | 7.25 | 7.5 | 7.75 | 8 |
| | 6 | 12 | 19 | 25 | 32 | 38 | 44 | 51 | 57 | 63 | 69 | 76 | | | | | | | | |
| 5.5 | 0 | 6 | 12 | 19 | 25 | 32 | 38 | 44 | 51 | 57 | 63 | 69 | 76 | | | | | | | |
| 6 | -6 | 0 | 6 | 12 | 19 | 25 | 32 | 38 | 44 | 51 | 57 | 63 | 69 | 76 | | | | | | |
| 6.5 | -12 | -6 | 0 | 6 | 12 | 19 | 25 | 32 | 38 | 44 | 51 | 57 | 63 | 69 | 76 | | | | | |
| 7 | -19 | -12 | -6 | 0 | 6 | 12 | 19 | 25 | 32 | 38 | 44 | 51 | 57 | 63 | 69 | 76 | | | | |
| 7.5 | -25 | -19 | -12 | -6 | 0 | 6 | 12 | 19 | 25 | 32 | 38 | 44 | 51 | 57 | 63 | 69 | 76 | | | |
| 8 | -32 | -25 | -19 | -12 | -6 | 0 | 6 | 12 | 19 | 25 | 32 | 38 | 44 | 51 | 57 | 63 | 69 | 76 | | |
| 8.5 | -38 | -32 | -25 | -19 | -12 | -6 | 0 | 6 | 12 | 19 | 25 | 32 | 38 | 44 | 51 | 57 | 63 | 69 | 76 | |
| 9 | -44 | -38 | -32 | -25 | -19 | -12 | -6 | 0 | 6 | 12 | 19 | 25 | 32 | 38 | 44 | 51 | 57 | 63 | 69 | 76 |
| 9.5 | -51 | -44 | -38 | -32 | -25 | -19 | -12 | -6 | 0 | 6 | 12 | 19 | 25 | 32 | 38 | 44 | 51 | 57 | 63 | 69 |
| 10 | -57 | -51 | -44 | -38 | -32 | -25 | -19 | -12 | -6 | 0 | 6 | 12 | 19 | 25 | 32 | 38 | 44 | 51 | 57 | 63 |
| 10.5 | -63 | -57 | -51 | -44 | -38 | -32 | -25 | -19 | -12 | -6 | 0 | 6 | 12 | 19 | 25 | 32 | 38 | 44 | 51 | 57 |
| 11 | -69 | -63 | -57 | -51 | -44 | -38 | -32 | -25 | -19 | -12 | -6 | 0 | 6 | 12 | 19 | 25 | 32 | 38 | 44 | 51 |
| 11.5 | -75 | -69 | -63 | -57 | -51 | -44 | -38 | -32 | -25 | -19 | -12 | -6 | 0 | 6 | 12 | 19 | 25 | 32 | 38 | 44 |
| 12 | -81 | -75 | -69 | -63 | -57 | -51 | -44 | -38 | -32 | -25 | -19 | -12 | -6 | 0 | 6 | 12 | 19 | 25 | 32 | 38 |