MAXXStak 1.5"/2"/2.25"/2.5" Adjustable Front Leveling Kit Magnetic RIde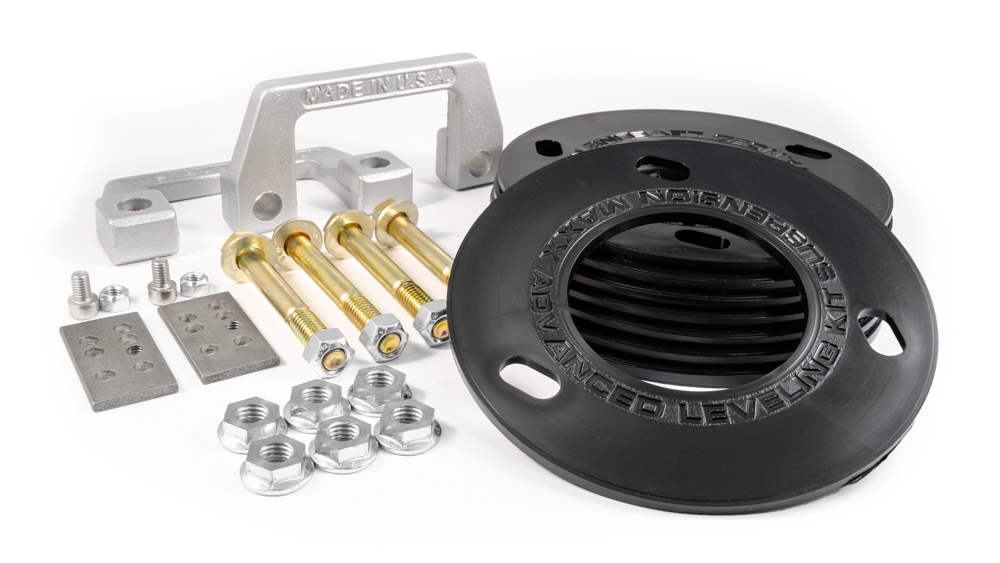 MAXXStak 1.5"/2"/2.25"/2.5" Adjustable Front Leveling Kit Magnetic RIde
SKU: SMX-GM725M
Fits 2015-2018 GMC Sierra Denali 1500 & 2007 - 2020 GM ½ ton SUV's Equipped with Auto Ride/ Magnetic Ride Control RPO Z95 (Auto Ride) RPO Z55
SMX-GM725M
MAXXStak 1.5 "/2"/2.25"/2.5" Adjustable Front Leveling Kit for 2007-2018 GM ½ ton trucks & 2007-2020 GM ½ ton SUV's
Adjustable front leveling kit provides incremental lift heights of 1.5 "/2"/2.25"/2.5" – you don't have to settle for "almost right"
Provides lift to level the vehicle, fit larger wheels and tires, or increase ground clearance
Gives the truck or SUV a more aggressive appearance
Maintains OEM ride quality
Durable and economical alternative to complex and expensive lift kits
Premium quality engineering and materials
Requires no extensive modifications to the vehicle
Excellent SuspensionMAXX customer service and technical support
100% Made in America and covered by the MAXX Structural Lifetime Warranty

Patent Pending

Relocation Brackets for Magnetic Ride Control Sensors included.
Compatible with Forged & Stamped steel Upper Control Arms!
Applications
*2015-2018 GMC Sierra Denali 1500 4x4 /2wd with Magnetic Ride Control
*2007-2020 Chevrolet/AvalancheLTZ / Tahoe LTZ/ Suburban LTZ/ Yukon Denali /4x4 or 2wd With Magnetic Ride Control RPO Z95
If you want to lift your front end to add larger wheels and tires, gain more ground clearance, stop your air dam from dragging on high objects, or compensate for the added weight of a custom bumper or winch MAXXStak Adjustable Front Leveling Kits are the solution. Perfect for off road use, and work and utility trucks.
The SuspensionMAXX MAXXStak 1.5 "/1.75"/2"/2.25"/2.5" Adjustable Front Leveling Kit is designed for the 2007-2020 Cadillac Escalade EXT and ESV, 2006-2013 Chevrolet Avalanche, 2015-2018 GMC Sierra Denali 1500, and 2007-2020 Chevrolet/GMC Suburban, Tahoe & Yukon. The high quality kit provides the ultimate in adjustability and enables you to lift your front suspension by 1.5, 1.75, 2, 2.25 or 2.5 inches by inserting assorted shims that are specifically manufactured to combine with the strut mount for increased lift height. This adjustability allows you to obtain just the right amount of front lift for your needs – to match or exceed the height of the rear of the truck, as well as compensate for variables such as cab length, front end weight, desired snow plow height, etc.
To gain 1.5 inches of lift simply insert the solid steel MAXXStak spacers between the lower coil over struts and control arms then fasten with the supplied Grade 8 bolts and stover lock nuts. Lift can be further increased by ¼ inch increments, up to a maximum of 2.5 inches, by inserting a specified number of the provided Ultra High-Density Polyurethane shims. These shims are specifically manufactured to combine with the strut mount for increased lift height. MAXXStak is compatible with steel or aluminum control arms and works with 2 wheel drive and 4 wheel drive vehicles. Installation takes approximately 2-2.5 hours using appropriate tools and is supported by the SuspensionMAXX Techical Support Program.
The MAXXStak Advanced Leveling Lift Kit for GMT900 based trucks and SUV's is an economical alternative to a complex and expensive lift kit. The kit features leveling lift spacers that allow the original equipment shocks to be used, which maintains the comfort of the easy riding coil spring suspension used on GMT 900 vehicles. Retaining the stock shocks also reduces your cost. SuspensionMAXX leveling kits come complete with all necessary parts and hardware. No rude surprises learning additional components are needed – right when you are in the middle of doing the installation. MAXXStak is quickly and easily installed when using the correct tools and requires no cutting or drilling – making it reversible and ideal for leased vehicles.
100% American made and covered under the MAXX Warranty
| | |
| --- | --- |
| | Fits 2015-2018 GMC Sierra Denali 1500 & 2007 - 2020 GM ½ ton SUV's Equipped with Auto Ride/ Magnetic Ride Control RPO Z95 (Auto Ride) RPO Z55 |
| | SMX-GM725M |
| | Front |
| | 3.000 |
| | 6.000 |
| | 6.000 |
| | 1.5"-2.5" |
Hi Scott.
Most 2013 Suburban 1500 need 1.5" -2.0" of lift to sit level. To get your truck to a leveled ride height, you can measure from the ground to the fender edge in the front and rear in the center of the wheel. Subtract the two ride height measurements, and that will give you the difference that is needed for a level truck.
John
Yes, a wheel alignment is required after installing a suspension MAXX leveling kit.
Return Policy
If you wish to return your SuspensionMAXX product please contact us by phone or email. You must notify us within 15 days of receiving your shipment. Non-warranty returns are subject to a 15% restocking fee, and all shipping charges are non-refundable. Items must be in new condition (No Exceptions), any cosmetic wear or damage from improper packaging in return shipping will increase the restocking fee to 25%. You are responsible for the return shipping cost and insurance fee (if desired). Please print your daytime phone contact number on the original invoice, and enclose it in the return shipment. Also, please print the order number on the outside of the carton being used for return shipment. Our staff will inspect returned products, and issue credit promptly. No returns after 30 days from date of delivery. If you have ordered the wrong item by mistake, we do offer exchanges at no additional charge within 30 days.
SuspensionMAXX, Inc.
1692 Marquette Ave
Bay City, MI 48706
Contact information
Phone 1-888-629-9226
Fax 989-667-7965
Info@suspensionMAXX.com
Tyler
-
July 23, 2020 2:33am
//2019 Sierra 1500 Denali Ultimate 6.2 /// I Just installed the new GM 925-m(?) - (2" level kit that supports the 'magnaride' suspension) from suspension maxx and coulddn't be happier! I agree above about the knowledgeable staff who answered EVERY question and had the right part shipped to me next day after ordering at nearly 4pm. I am curious the maximum tire size with absolutely no scrub if anyone has that answer?? Heard everything to 285/55/r22 , is there a 275/55/r22? or what is the exact size and or tire? thanks in advance! BUY FROM THESE FOLKS-TOP NOTCH!
Scott S
-
May 12, 2020 5:25pm
Bought this kit for a 2018 GMC Sierra 1500 Denali. The 2" height was perfect for a balanced look. 2.5" might have been a little too much. Installation was very easy with some help from Larry at SuspensionMaxx. He walked me through getting the MagnaRide connector disconnected, which apparently is different that 2014-2017 models.
Mike M.
-
June 22, 2019 3:14pm
Kit was easy to install on the passenger side and a little more difficult on the drivers side. Installed it at 2". Running 305/55/20 tires.
S Clarke
-
June 15, 2019 5:34pm
Great product 2018 Sierra denali looks great.
Ross
-
June 4, 2019 8:11am
Had to write a review about this kit, I have been looking for several months and finally found this one for my 2010 Escalade ESV. First, can't say enough about the staff. They answered my question quickly, and the install videos were detailed. Probably took me longer to get the tires off than to install the kit (someone had put the lugs on with an industrial air gun I think). Follow the video and the instructions and you can do this in the driveway with no problems. Only thing I will say is you can access the top of the struts from the engine bay with a really long extension and a deep socket. I bought the ratchet open end 18mm as suggested in the video, but didn't need it. Not sure I could have broken those bolts loose anyways. Other than that everything went in just like it should. I have pics to share if there is a way to upload them I would. Love the new stance, I did the lower bracket and one spacer for the 1.75" of lift. The rear raised up with the air bags and now I am perfectly level. Went from 4.75 to about 6.25 from the top of the tire to the fender. Rear is at 6.25 as well. Can't wait to get some new rubber, going to install 305/45/22. Thanks for a great product guys. Highly recommend.