MAXXCam 2: 1"-3" Adjustable Leveling Kit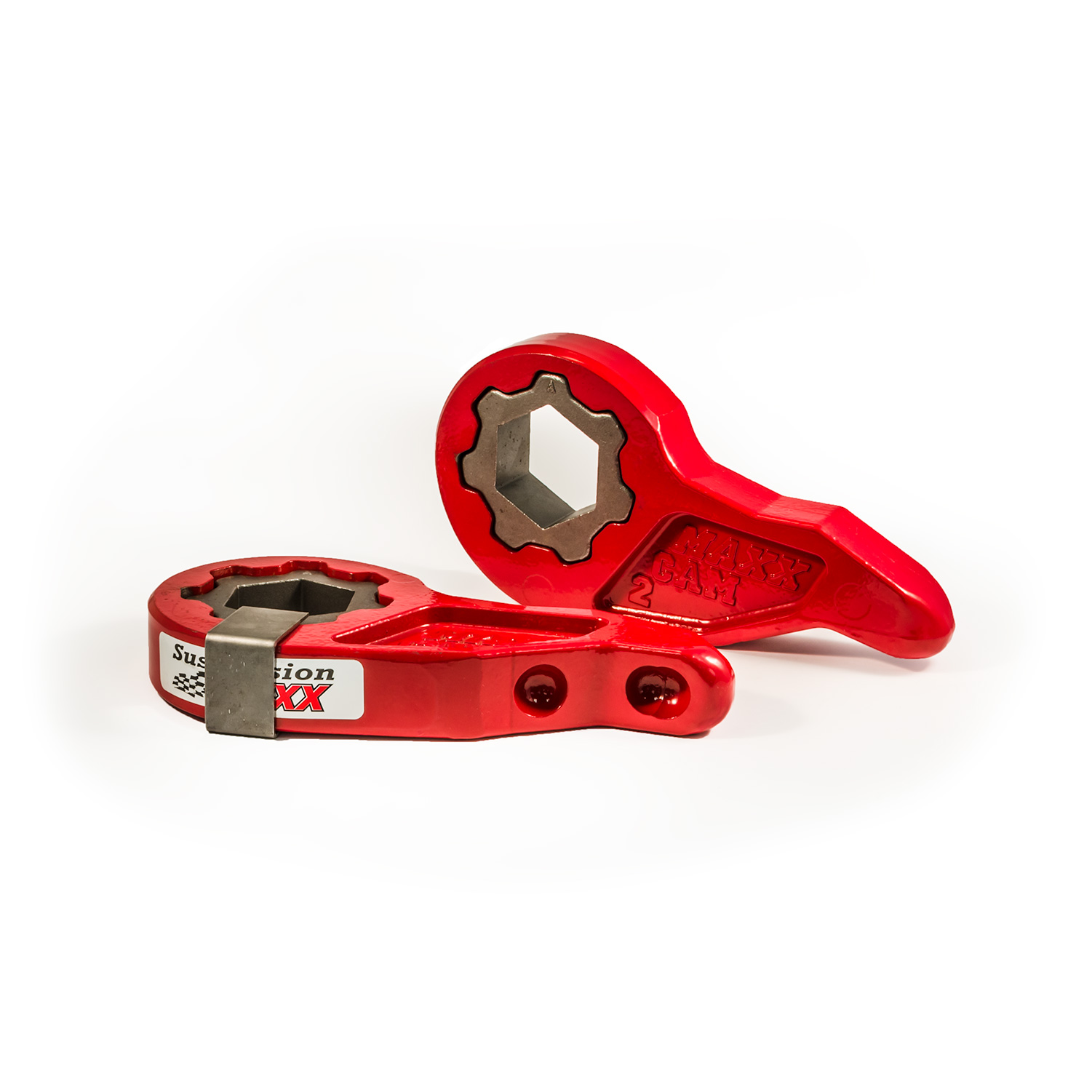 MAXXCam 2: 1"-3" Adjustable Leveling Kit
SKU: SMX-MC2
Fits '88-'06 1500 4x4 (incl. '07 Silverado/Sierra Classic) / '88- '00 GM 3/4 and 1-ton 4x4 trucks / '88-'06 GM 4x4 ½ ton SUV's
SMX-MC2
MAXXCam 2: 1"-3" Adjustable Leveling Kit for '88-'06 4x4 ½ ton trucks (incl. '07 Silverado/Sierra Classic) / '88- '00 GM 3/4 and 1-ton 4x4 trucks / '88-'06 GM ½ ton 4x4 SUV's

Provides lift to level the vehicle, fit larger wheels and tires, increase ground clearance, or carry heavier front loads. Gives the truck or SUV an more aggressive appearance


Adjustable front leveling kit allows fine tuning of front lift height 1"-3" – you don't have to settle for "almost right"

Patented torsion bar key internal gear adjustment mechanism provides up to 7 incremental lift height adjustments

No torsion bar preload and no degradation in handling or ride quality

Manufactured with 4140 heat-treated alloy steel

Complete kits include all required hardware including shock extensions

Durable and economical alternative to complex and expensive lift kits

Premium quality engineering and materials

Requires no extensive modifications to the vehicle

Excellent SuspensionMAXX customer service and technical support

100% American Made and covered by the MAXX Structural Lifetime Warranty

Applications

2002-2005 Cadillac Escalade Std. EXT, ESV 4x4



2001-2006 Chevrolet Avalanche 4x4 (Including 2006 Avalanche "Classic")

1988-1998 Chevrolet/GMC Silverado/Sierra K1500 4x4

1990-2000 Chevrolet/GMC Silverado/Sierra K2500 4x4

1990-2000 Chevrolet/GMC Silverado/Sierra K3500 4x4

2001-2006C Chevrolet/GMC Suburban/Yukon XL 1500 4x4

2001-2006 Chevrolet Tahoe/Yukon 4x4 and 2WD


SuspensionMAXX MAXXCam 2 Adjustable Torsion Bar Leveling Kits are the perfect choice for lifting, leveling or dropping the front suspension on torsion bar equipped trucks and SUV's. MAXXCam 2 provides 1"-3" of lift - allowing you to obtain just the right amount of lift for your needs. No settling for "almost right".
The SMX-MC2 kit is designed for General Motors GMT800 based vehicles including the 2001-2006 Cadillac Escalade and Chevrolet Avalanche 4x4 (including 2006 Avalanche "Classic"), 2001-2006 Chevrolet Suburban and GMC Yukon XL 1500 4x4, and 2001-2006 Chevrolet Tahoe and GMC Yukon 4x4 and 2WD. It also integrates with 1988-1998 Chevrolet Silverado and GMC K1500 4x4, as well as 1990-2000 Chevrolet Silverado and GMC Sierra K2500 and K3500 4x4. MAXXCam 2 is a lower cost option to high-priced full lift kits.
The patented MAXXCam 2 is the first adjustable torsion bar leveling kit available on the market, and increases vehicle function while providing your truck with a more aggressive look. MAXXCam 2 introduces forged torsion bar keys that utilize an internal gear adjustment mechanism with seven position settings. MAXXCam 2 can be set to any amount of corrected height and degree torsion bars require with no preload and no degradation in handling or ride quality.
MAXXCam 2 includes shock extension adapters that allow the stock shocks to be used. Thereby maintaining the comfortable factory ride and reducing your cost. MAXXCam 2 provides all necessary hardware including shock extensions. Quick to install when using the SuspensionMAXX torsion bar unloader tool and requires no extensive modifications to the vehicle. Made in the USA.
To make room for bigger tires, increase ground clearance, or bolster front end support for heavy accessories like snowplows, you'll find MAXXCam 2 Adjustable Torsion Bar Leveling Kits are the best solution. MAXX Cam torsion bar keys are investment cast to exacting standards using 4140 heat-treated alloy steel for durability that exceeds that of even the toughest one-piece OEM torsion bar lever. Industrial strength powder coating is applied for added protection from the elements.
MAXXCam 2 Installation takes approximately 1-2 hours using a torsion bar removal and installation tool (please note SuspensionMAXX offers the Super 'T' MAXX tool), and is supported by the SuspensionMAXX Techical Support Program. Covered by the MAXX Structural Lifetime Warranty.
| | |
| --- | --- |
| | Fits '88-'06 1500 4x4 (incl. '07 Silverado/Sierra Classic) / '88- '00 GM 3/4 and 1-ton 4x4 trucks / '88-'06 GM 4x4 ½ ton SUV's |
| | SMX-MC2 |
| | front |
| | 1.0"-3.0" |
Yes, them MaxxCam2 leveling kit will work on your 2004 Avalanche.
SMX-15200 is the 2" rear spacer for that model.
https://suspensionmaxx.com/product/SMX-15200
Return Policy
If you wish to return your SuspensionMAXX product please contact us by phone or email. Fill out the Return Form Bellow and mail it back with your return. You must notify us within 90 days of receiving your shipment. Non-warranty returns are subject to a 15% restocking fee, and all shipping charges are nonrefundable. Items must be in new condition (No Exceptions), any cosmetic wear or damage from improper packaging in return shipping will increase the restocking fee to 25%. You are responsible for the return shipping cost and insurance fee (if desired). Our staff will inspect returned products, and issue credit promptly. No returns after 90 days from date of delivery. If you have ordered the wrong item by mistake, we do offer exchanges at no additional charge within 90 days.
SuspensionMAXX, Inc.
1692 Marquette Ave
Bay City, MI 48706
Contact information
Phone 1-888-629-9226
[email protected]
Alex Garza
-
March 7, 2021 3:43pm
Best keys on the market, hands down. Dont cheat yourself, treat yourself !! I only you Suspension Maxx.