MAXXStak 1.375"/1.5"/1.75"/2.0"/2.125"/2.25"/2.75" Adjustable Front Leveling Kit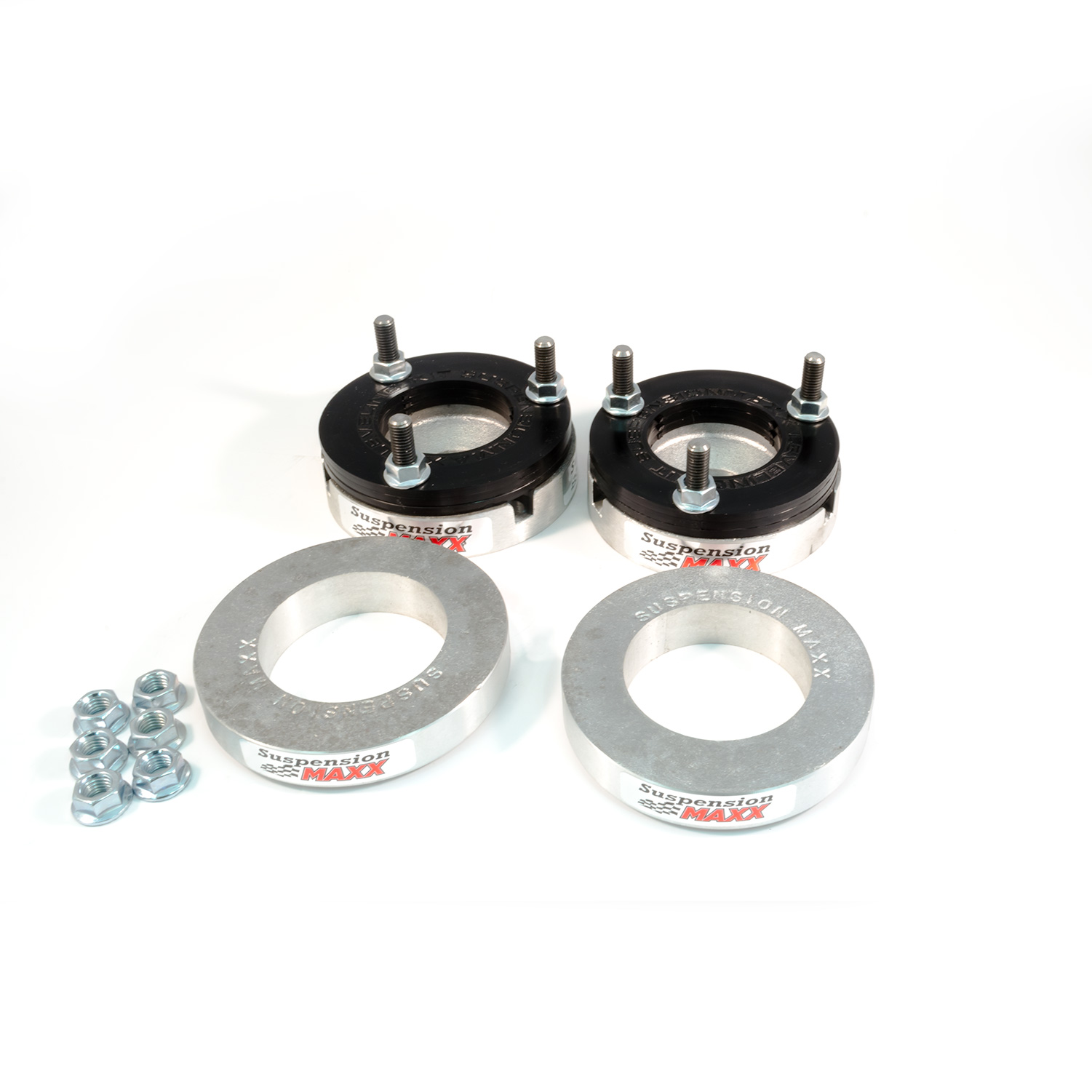 MAXXStak 1.375"/1.5"/1.75"/2.0"/2.125"/2.25"/2.75" Adjustable Front Leveling Kit
SKU: SMX-RM610
Fits 2009-2018 Dodge Ram 1500 4x4. Non Megacab
SMX-RM610
MAXXStak 1.375"/1.5"/1.75"/2.0"/2.125"/2.25"/2.75" Adjustable Front Leveling Kit for 2009-2018 Dodge Ram 1500 4x4. Non Megacab
Adjustable front leveling kit provides incremental lift heights of 1.375"/1.5"/1.75"/2.0"/2.125"/2.25"/2.75" – you don't have to settle for "almost right"

Provides lift to level the vehicle, fit up to 34" diameter tires, and increase ground clearance

Provides a more aggressive appearance

Maintains OEM ride quality. Retains stock shocks.

Durable and economical alternative to complex and expensive lift kits

Premium quality engineering and materials

Requires no extensive modifications to the vehicle

Excellent SuspensionMAXX customer service and technical support>

100% Made in America and covered by the MAXX Structural Lifetime Warranty
Applications
2009-2018 Dodge Ram 1500 4x4 Non-Mega Cab
The SuspensionMAXX MAXXStak 1.375"/1.5"/1.75"/2.0"/2.125"/2.25"/2.75" Adjustable Front Leveling Kit provides you with a choice of incremental lift heights that enable you to find the "just right" ride height that fits your needs, while maintaining your comfortable factory ride. SMX-RM610 is designed to fit 2009-2015 Dodge Ram 1500 4x4 Non-Mega Cab models, and provides a lower cost alternative to complex and expensive lift kits.
This high quality and well-engineered system enables you to lift your front suspension 1.375", 1.5", 1.75" or 2" by inserting the precision CNC milled MAXXStak aluminum spacers and a specified number of the provided Ultra High Density Polyurethane shims between the upper strut and frame mounts. Additional lift heights of 2.125"/2.25"/2.75" are achieved by also inserting MAXXStak aluminum coil spring spacers and a specified number of the shims. Of note, the shims also provide additional isolation for the springs, which helps to reduce noise, harshness and vibration. The result is a smoother and more satisfying ride.
MAXXStak Adjustable Front Leveling Kits enable you to obtain just the right amount of front lift – to match or exceed the height of the rear of the truck, as well as compensate for variables such as cab length, front end weight, desired snow plow height, etc. SMX-RM610 provides clearance for fitment of up to 34" diameter tires.
Spacers included in the MAXXStak SMX-RM610 kit are precision CNC Milled from billet aluminum for excellent fit, strength and rigidity, as well as long life. No cracking, No sagging, No rust. MAXXStak includes all the parts and hardware required for you to do the job right. The kit requires no drilling – making it completely reversible and ideal for leased vehicles. Installation can be completed in just 2-2.5 hours using appropriate tools and is supported by the SuspensionMAXX Techical Support Program. MAXXStak is 100% Made in America and covered by the MAXX Structural Lifetime Warranty.
| | |
| --- | --- |
| | Fits 2009-2018 Dodge Ram 1500 4x4. Non Megacab |
| | SMX-RM610 |
Have a question? Ask it below.
Return Policy
If you wish to return your SuspensionMAXX product please contact us by phone or email. You must notify us within 15 days of receiving your shipment. Non-warranty returns are subject to a 15% restocking fee, and all shipping charges are non-refundable. Items must be in new condition (No Exceptions), any cosmetic wear or damage from improper packaging in return shipping will increase the restocking fee to 25%. You are responsible for the return shipping cost and insurance fee (if desired). Please print your daytime phone contact number on the original invoice, and enclose it in the return shipment. Also, please print the order number on the outside of the carton being used for return shipment. Our staff will inspect returned products, and issue credit promptly. No returns after 30 days from date of delivery. If you have ordered the wrong item by mistake, we do offer exchanges at no additional charge within 30 days.
SuspensionMAXX, Inc.
1692 Marquette Ave
Bay City, MI 48706
Contact information
Phone 1-888-629-9226
Fax 989-667-7965
Info@suspensionMAXX.com